We love to explore and share, so here are our San Ignacio picks for good eats and one fine guest house.  When it comes to lodging, we require good wifi, a comfy bed, a safe location, possibly a kitchen and in the case of Belize, some A/C.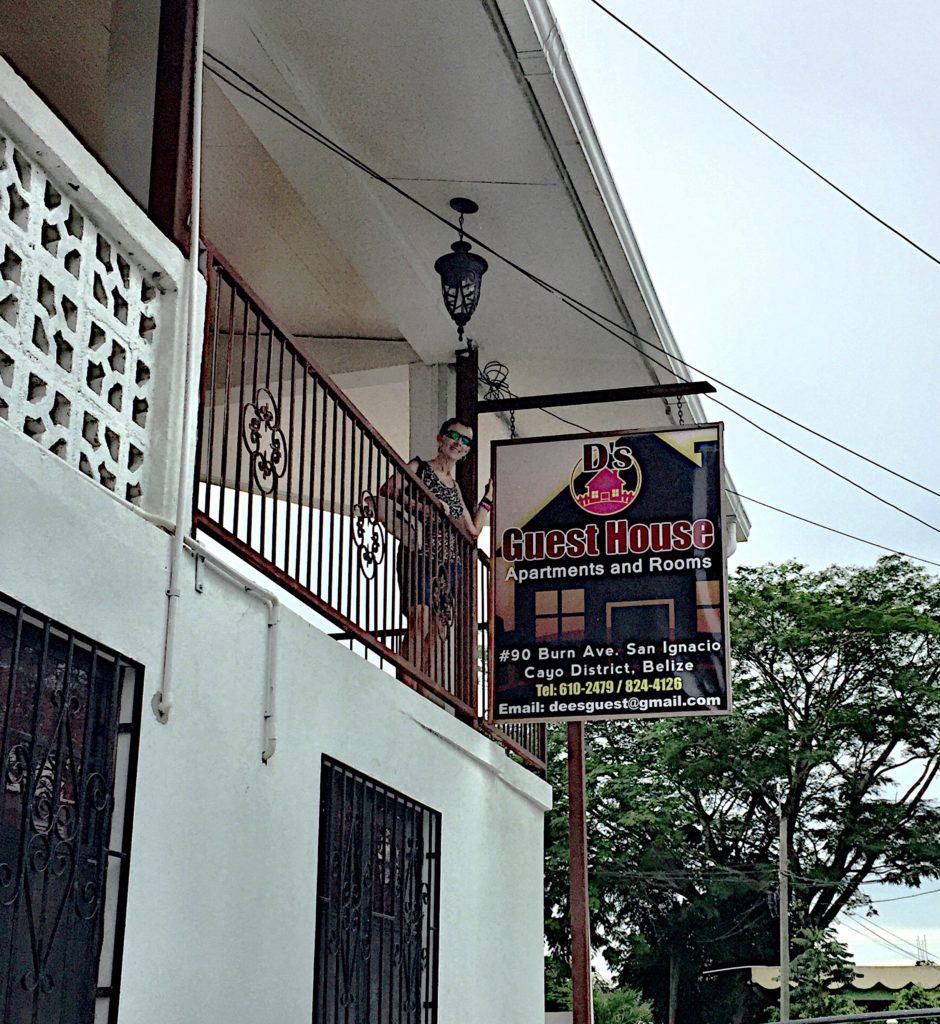 D's Guesthouse and Hostel at 90 Burns Ave in San Ignacio is all that and more. (501) 610-2479. (No website or FB page was located.) D's is located at the end of Burns Avenue, an easy 3-5 minute walk to restaurants, shops, bars, tour operators etc up the road. Raphael, the owner, is generally on site. We rented a one bedroom upstairs apartment (#2) for the low season rate of $50 USD per diem. The apartment, which was remodeled, was spotless. Wifi was excellent, the bed was comfortable and Raphael welcomed us like we were old friends. You can't go wrong with this accommodation. Plus it's right across the street from one of the town's best restaurants, The Guava Limb.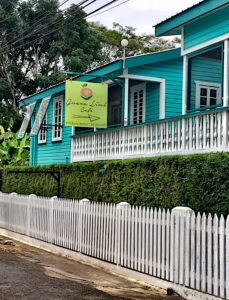 Guava Limb Restaurant, 79 Burns Avenue, is to die for! (501) 824-4837. You have a choice of downstairs courtyard dining as well as an upstairs dining room or dining on the balcony. Offerings include an eclectic menu created from organic produce – and delicious iced coffee. (Our weakness!) We had the Thai Lettuce Wrap appetizers and Belizean Jerked Chicken Quesadillas one time then tried their Caribbean Fish Chowder (Jack gave it an enthusiastic thumbs up!) and a Grilled Snapper special the second visit. Oh my!!! They serve lunch and dinner.
Eva's Restaurant & Bar at 22 Burns Avenue, was our first stop in San Ignacio. (501) 804-2267. Their tables sit out on the "pedestrian only" portion of Burns Avenue, along with several other restaurants, which makes for great people watching. "Multi-Cuisine" is how Eva's described their menu on FB, an apt description. They also say they are "always open" which we can't dispute. (Although I'm sure they close sometime.) Their menu is inexpensive, the food is good and the service friendly. Plus, you can get tour information from Sergio (or his son, Sergio Jr.) while there.

KO-OX-HAN-NAH (known locally as Hannah's) located at 5 Burns Avenue, is open from 6AM – 9PM. (501) 824-3014. They describe themselves as an Indian Restaurant, but they have everything from a fish sandwich to beef tacos to lamb burgers to…you want it, they probably have it. And excellent iced coffee! The name means "Let's Go Eat," something we highly recommend that you do here. Moderately priced for great food. Open for breakfast, lunch and dinner.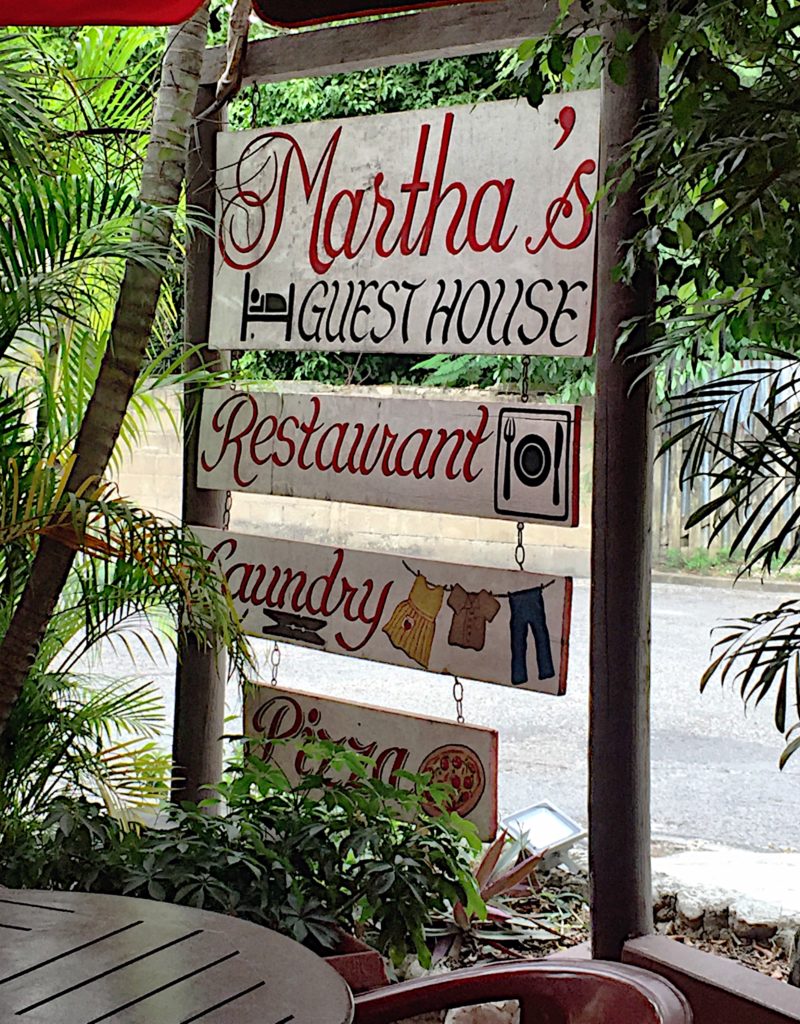 Martha's Guest House, Restaurant, and Laundry 10 West Street, (501) 804-3647 is one of the few places with a website. This place turned out to be our favorite breakfast place. They have super-sized iced coffee's and servings large enough to split. We enjoyed their breakfast burrito and Martha's Mayan Breakfast. "Marin," our waiter, has been providing quality customer service for over 8 years. He will make you feel right at home. Serving breakfast, lunch and dinner.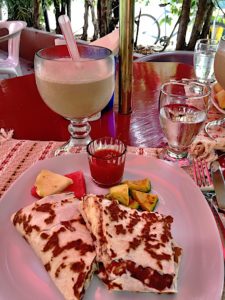 Serendib is another restaurant located on the pedestrian portion of Burns Avenue. 27 Burns Avenue (501) 824-2302. Serendib Restaurant specializes in Sri Lankan Rice & Curry dishes, Vegetarian meals, Seafood, and Steaks. We had a "grilled to perfection" fish sandwich and a traditional dish made of ground up coconut mixed with rice served with chips. Regretfully, we cannot recall the name but it was so-o-o-o good. This restaurant came to us as a recommendation from Raphael at D's.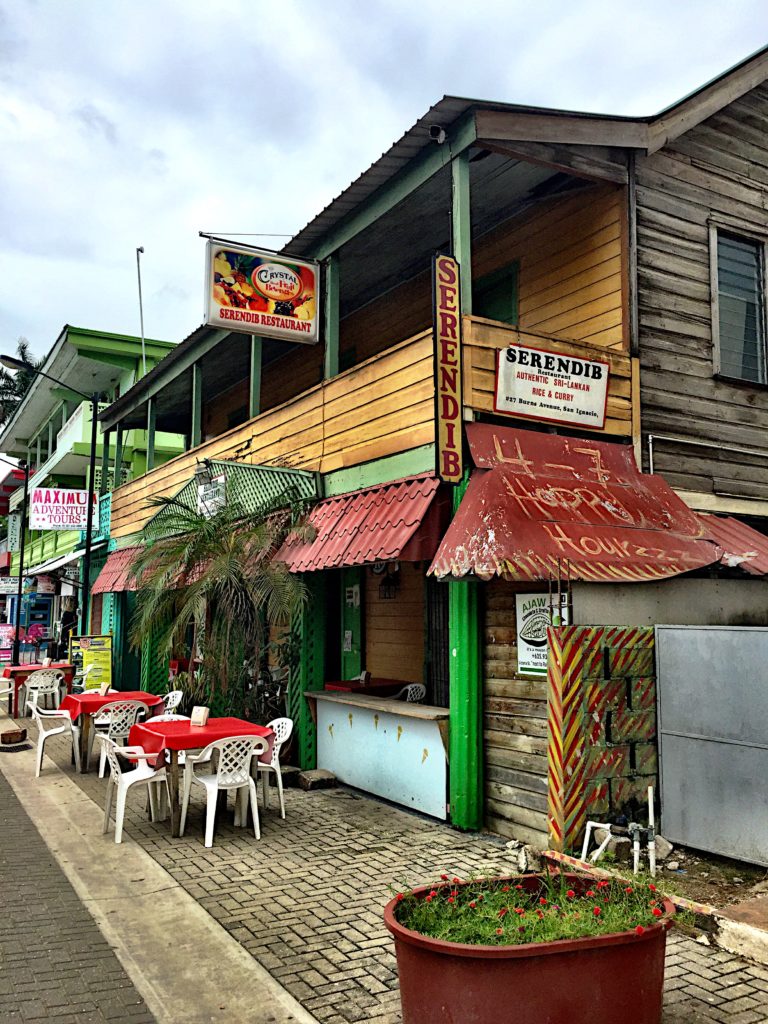 Our fall back favorite for iced coffee is definitely the Blended Deli located in the newly constructed Cayo Welcome Center, one block over from Burns Avenue. (501) 623-9279.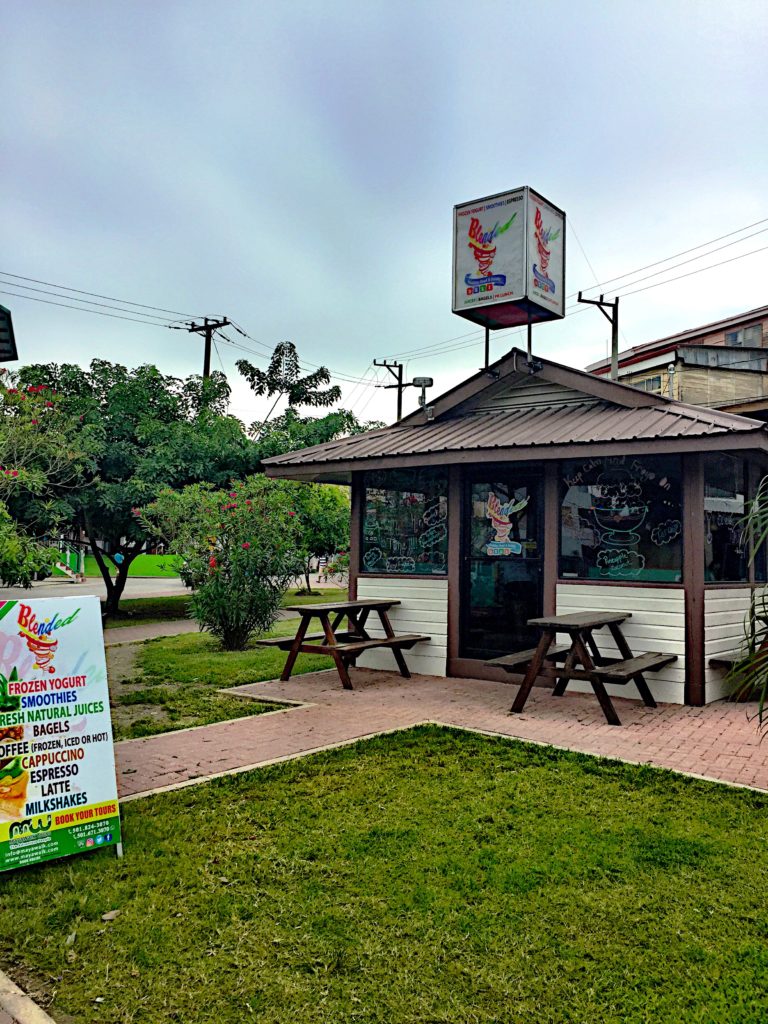 They serve coffee drinks, smoothies, yogurts, juices, milkshakes and bagels. We had more than several "frapps" here and miss them now that we are gone! Frapps/Iced Coffees around town were generally $8 BZD.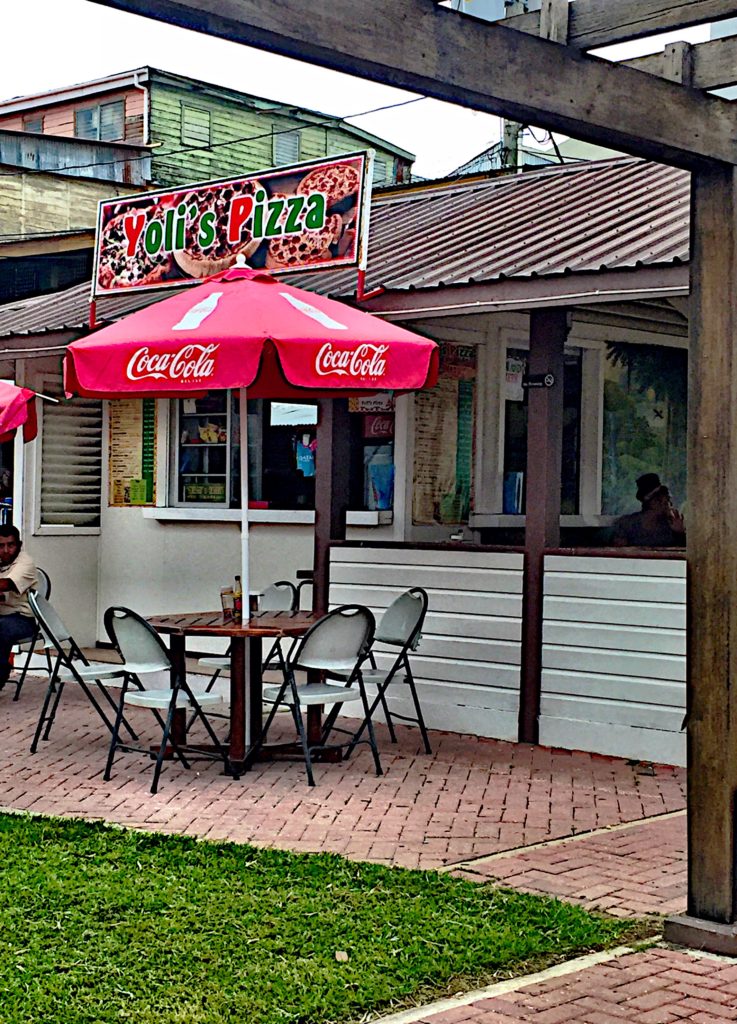 Right next to Blended Deli in the Welcome Center is Yoli's Pizza. (501) 824-4187. I don't know what they do to make their crust so light and flakey, but it was delicious. You can buy a nice large slice of pizza starting at $3.74 BZD up to about $4.75 BZD. They have an extensive menu to choose from or you can always select your own toppings. There was nothing better than a coffee from Blended Deli to wash down some of Yoli's Pizza. They also sell bite size coconut tarts for $1 BZD. Take some home with you for late night munchies.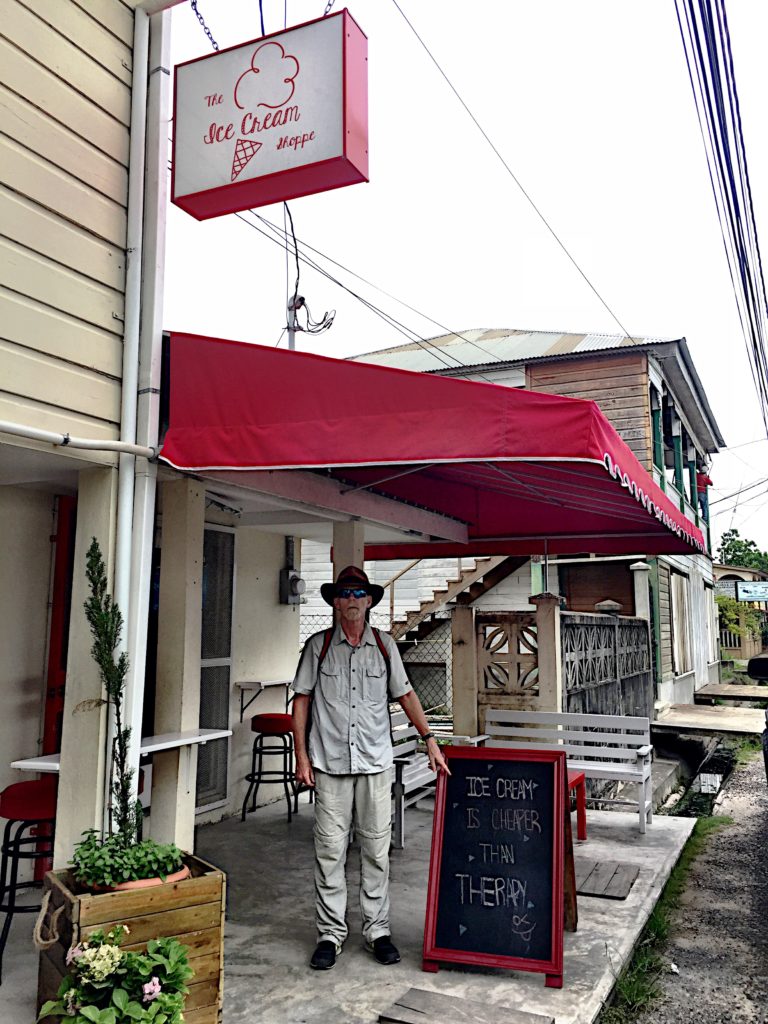 Everyone knows the Ice Cream Shoppe in San Ignacio. Located at 24 West Street. (501) 615-6160. If you ask anyone where to get ice cream, they will undoubtedly direct you to this location. We first saw it as we strolled back to our apartment at D's from Martha's which is just a bit further up the street. Treat yourself to one of their unique and delicious flavors or try a new take on an old favorite. Either way, the ice cream is perfection.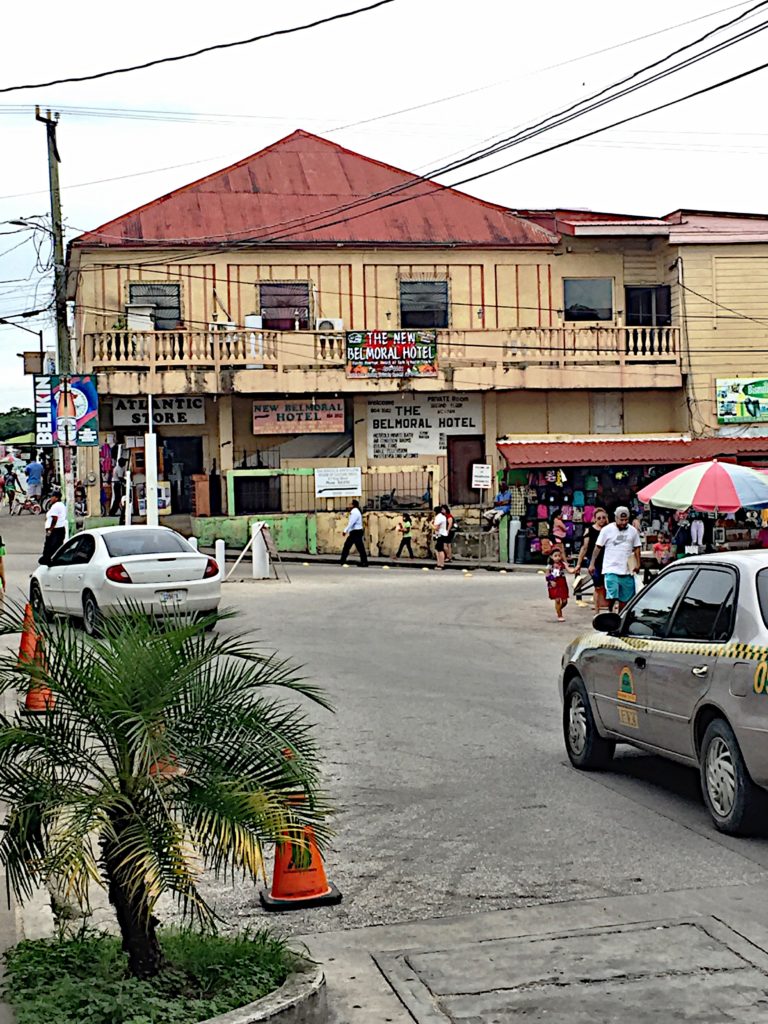 We hope we have literally given you some "food for thought" when in San Ignacio. There are many more restaurants, to fit all pocketbooks and tastes. If you'd like to add your favorites to this post through the comments, please do so! Bon Appetit!