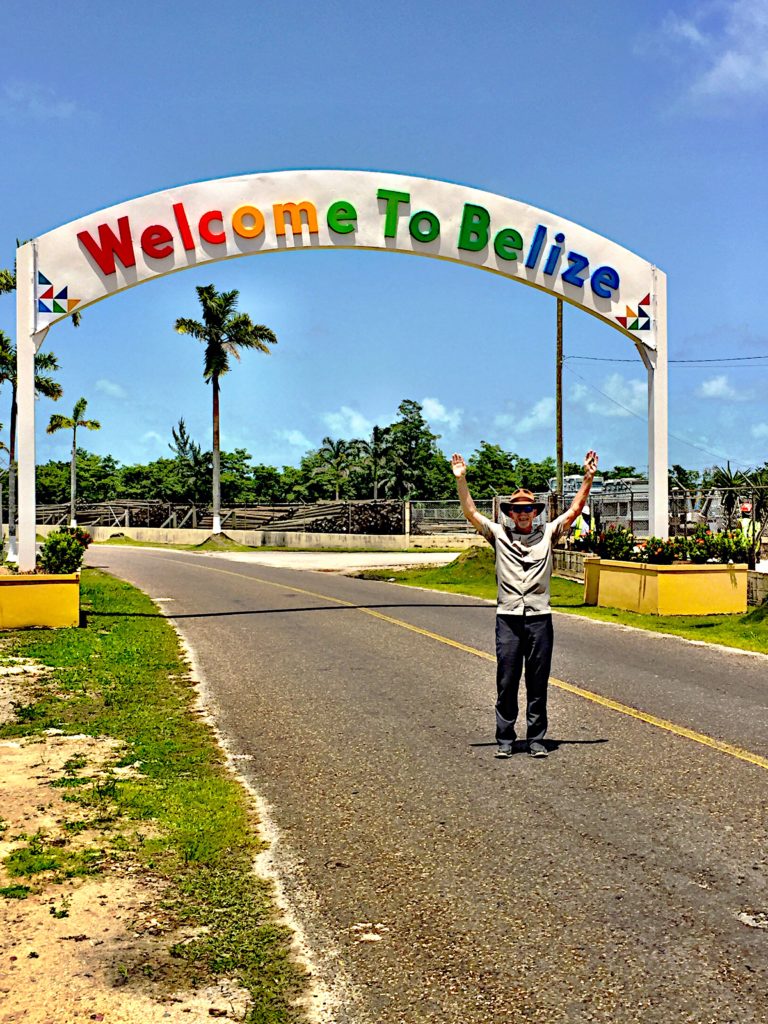 Belize! We are finally here. The first thing to know about Belize is – respect the signs that say "Bumps," "Pedestrian Crossing," "Pedestrian Lane" or anything close to it. These bumps mean business and although most are clearly marked, a few are not. If you hit them at speed, you'll wish you hadn't. It's common for the locals to set up "shop" at these bumps as vehicles almost come to a halt to safely cross them, providing enterprising villagers an opportunity to sell their wares. If you see people standing by the side of the highway, and haven't seen a sign, there's probably a "sleeping policeman" lurking there – so slow down!
Car rentals at the airport are easy. There's quite a selection – Crystal Car Rental came highly recommended. Their fleet is fairly new, service is good, plus they are the only car rental company that allows their cars out of County, in case a trip to Tikal is on your list. A free emergency cell phone is provided with each rental which can be "topped up" for personal use. Don't forget to grab a cooler on your way out – also free.
Brightly painted houses and vibrant landscape compete for our attention as we headed out to the Cayo District, famous for all it's Mayan ruins. Even the Hattieville Police Department was awash with color, making it easy to find if needed!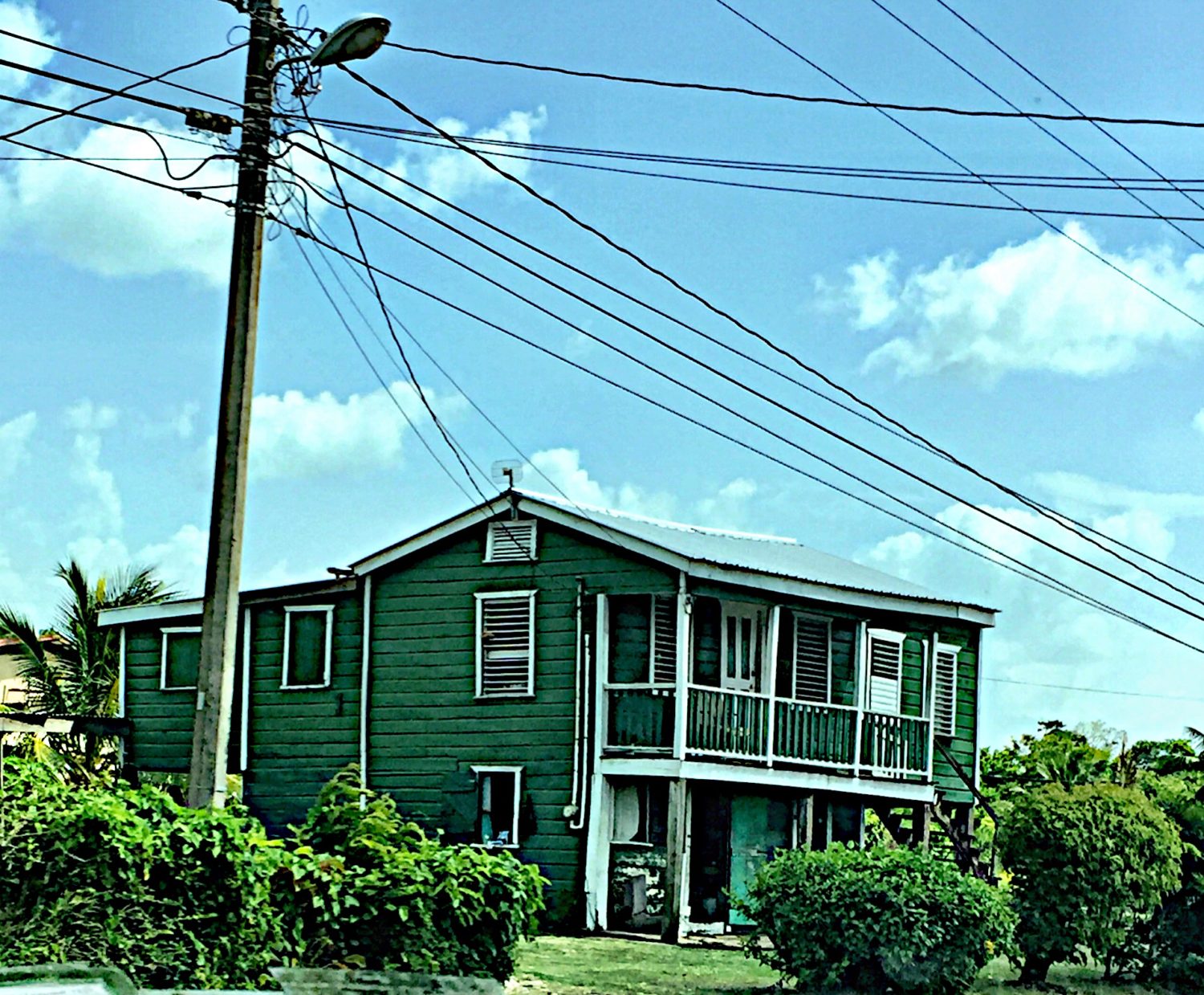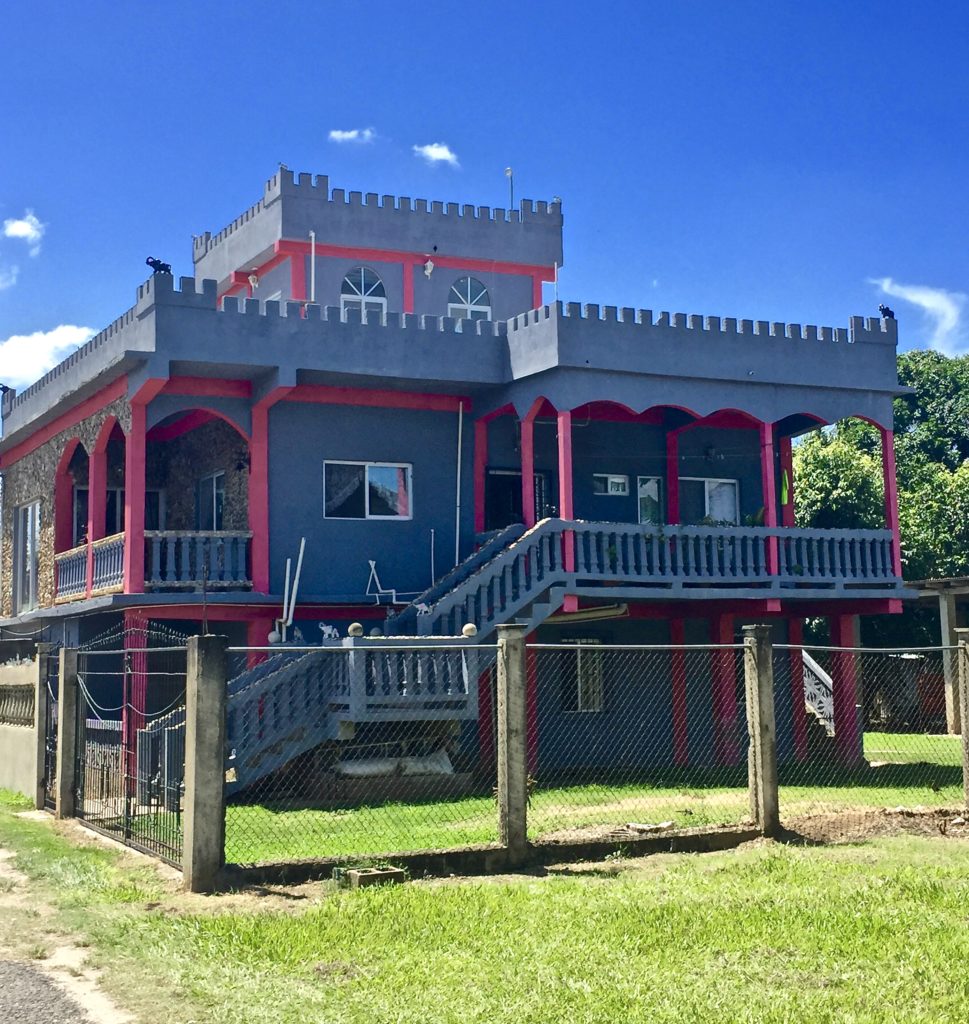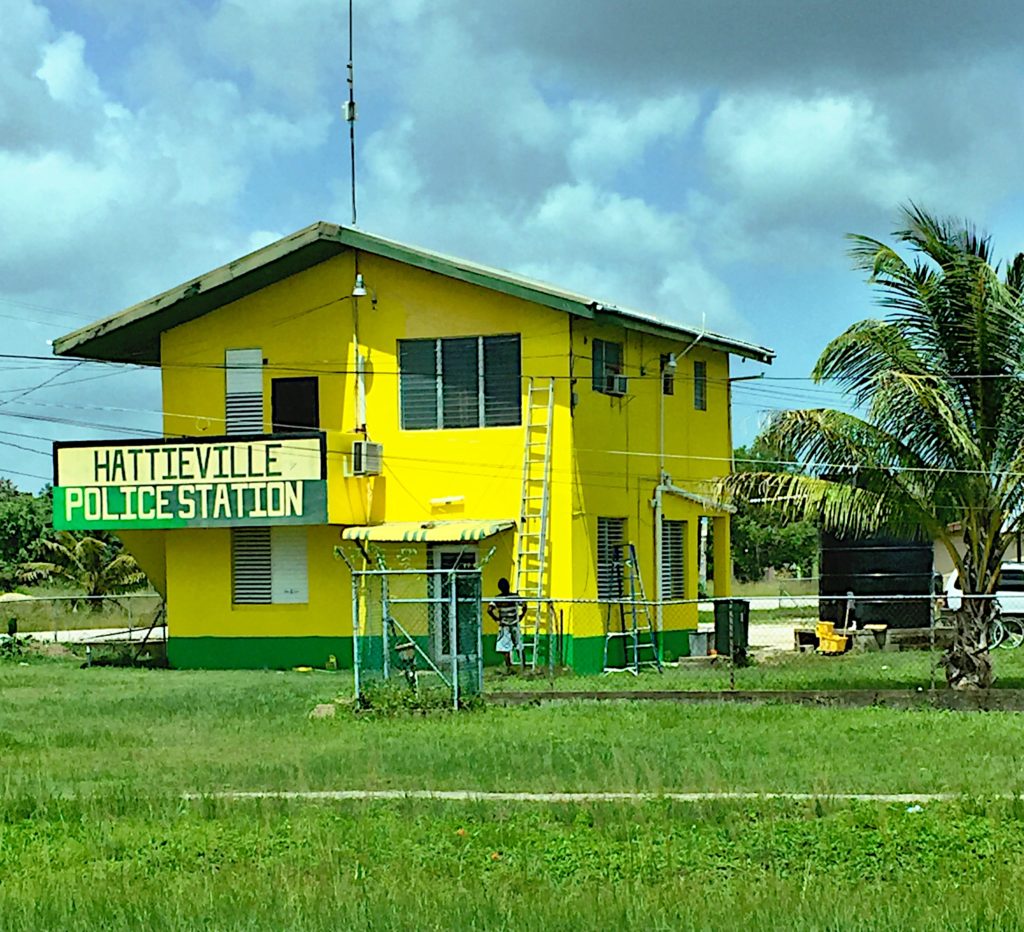 We checked into "Wish Willy River View Cabana" in Santa Elena, a clean, cozy one bedroom with all the necessary amenities. The location overlooks the river and is great for walking into Santa Elena and San Ignacio, as well as driving to the various points of interest.
Our first foray was to Cahal Pech, an archeological site on a hill overlooking San Ignacio.  It's easily accessible by foot from San Ignacio, or you may prefer a taxi as it's a short uphill walk.  We were in the off season and basically had the whole place to ourselves. You are able to climb the step of the temples for great views throughout.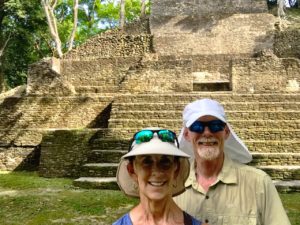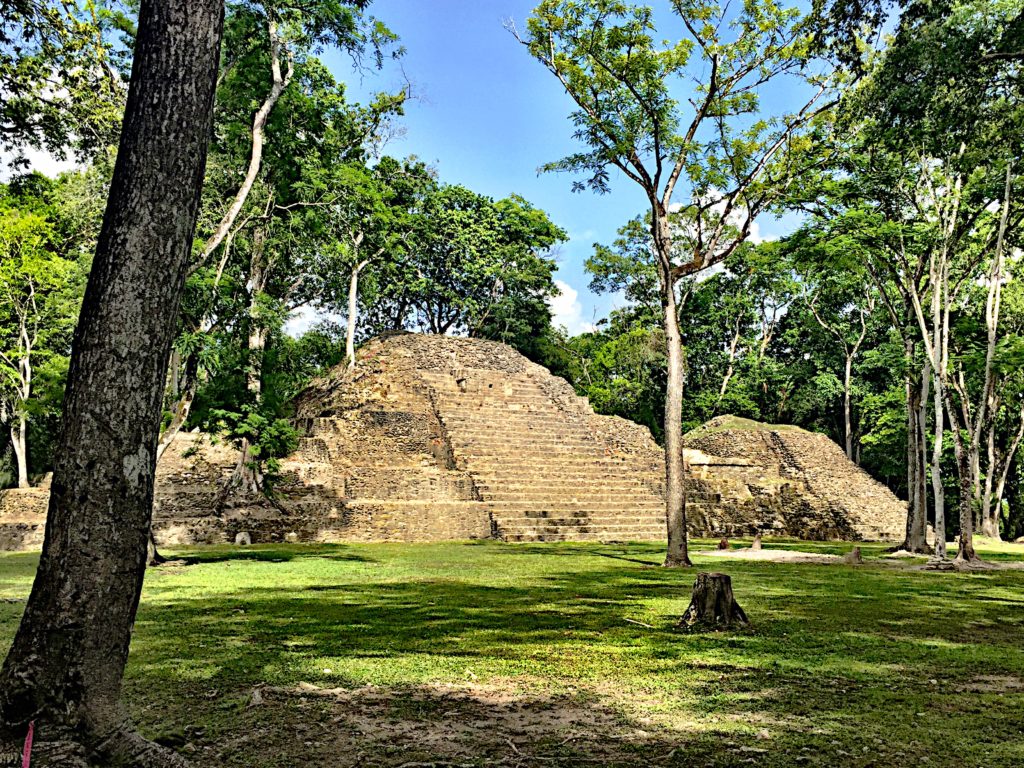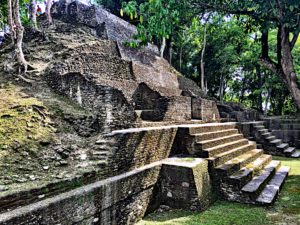 A 5 minute walk from the ruins is the Cahal Pech Village Resort. While we didn't stay there, we did learn that most any hotel will allow access to their pool for BZ$10, a tidbit to remember when temperatures climb.
The next day we went to the ruins at Altun Ha.  (The correct pronunciation is with the emphasis on the "Ha.")   Altun Ha is a popular site as it's only 31 miles north of Belize City and is one of the most extensively excavated sites.  After paying our BZ$10 admission fee, we strolled throughout the various temples and plazas, absorbing the fact that at one time, 8,000 to 10,000 Mayan lived here with earliest settlement dating back to 200BC.  It was a warm day, so we took our time.  When you'd like a break from the strenuous climb up the various structures (some of the steps are quite steep) walk down to the reservoir called "Rockstone Pond."  It's a short, pleasant 10 minute walk down a gravel path to the pond..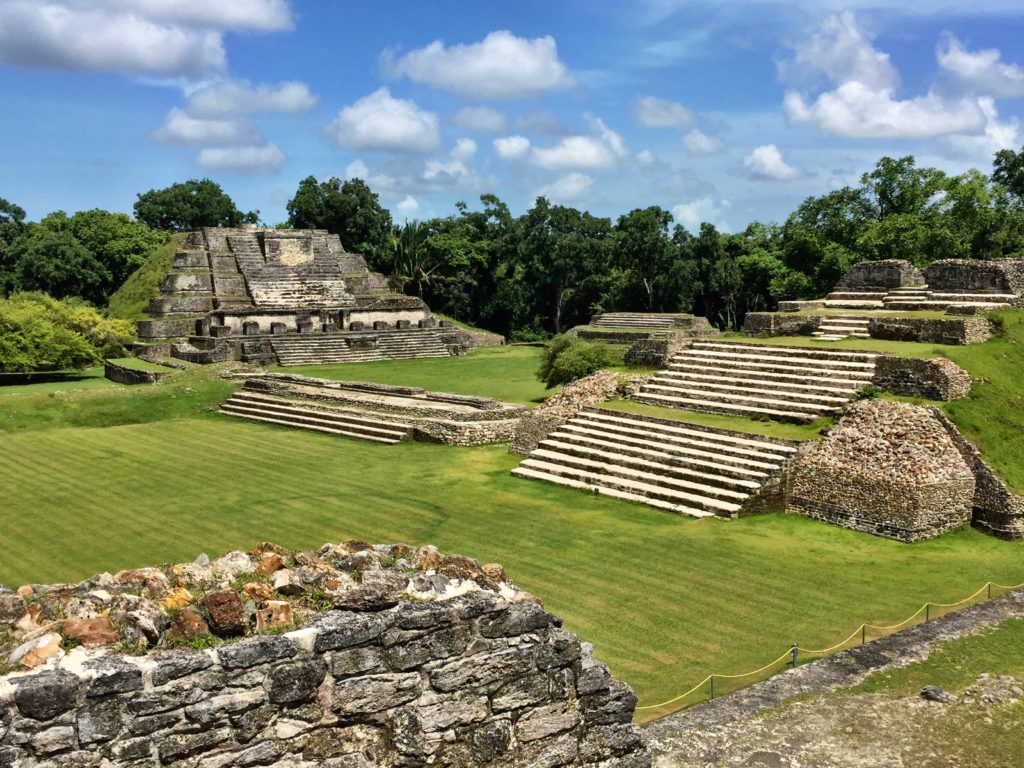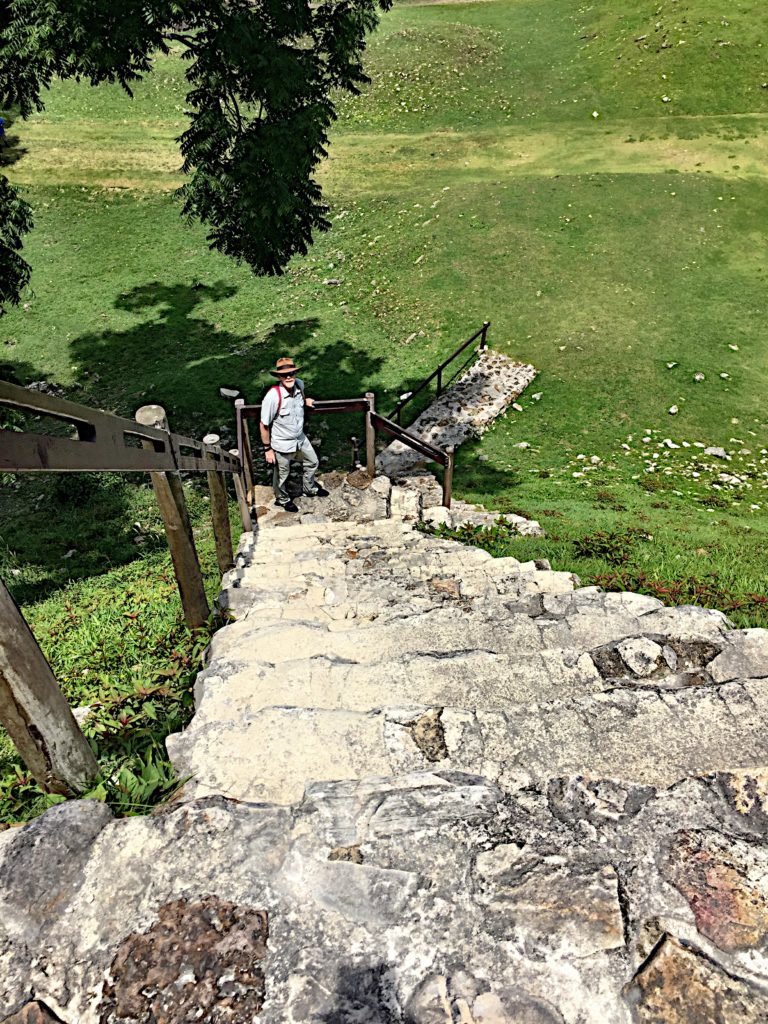 Our final surprise at these ruins was the iced coffee we found at the vendor outside at the parking lot.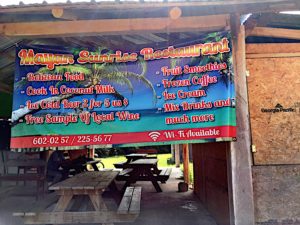 If you know us at all, you know we love our iced (or occasionally hot) coffee and are always on the search for it when traveling. We hadn't been too successful in town so were quite surprised when the open air shop outside the ruins had the best ever iced coffee. Maybe it just tasted that way because we were so darn hot, but it was good, nevertheless.
Due to the uneven and somewhat jagged nature of the rocks, sturdy walking or hiking shoes are recommended.  Make sure, along with study footwear, that you bring plenty of water, sunscreen and bug spray. Loose fitting, baggy pants or shorts are best along with a hi-tech quick dry top or shirt. The sun can be relentless so we like some sort of hat. Come prepared and have a good time!
Our next blog will be about our visit to Orange Walk and the Lamanai River Cruise.