A Cape Palliser excursion is a "must do" if you have yet to see the New Zealand fur seals up close and personal.  The "Cape" holds the distinction of being the southernmost point of North Island and is even further south than Nelson on the South Island!  Located in the Southern Wairarapa area, it is an easy 2 ¼ hours drive from Wellington.
We set out intent on first having lunch at the Lake Ferry Hotel as we were told this Hotel has awesome outside dining with beautiful lake and bay views. Plus, if you bypass Martinborough to save drive time by turning off SH 2 at Kahutara Road, there are only a few small towns with limited to non-existent dining options.  We found the Pirinoa General Market, which has been operational since 1882, along with the Land Girl Pirinoa Coffee House in Pirinoa, but the coffee house is only open Thu-Sun.
The drive is pleasant and inland until you arrive at the Lake Ferry Hotel at the very end of the road, where the land gives way to fabulous views of Lake Onoke across to Ocean Beach.  We were surprised to discover that there is no actual "lake" named "Lake Ferry" and that the name comes from the now defunct ferry service that used to cross Lake Onofe to provide access to Cape Palliser.   We enjoyed a great lunch then wandered the area for some photo ops before continuing our journey.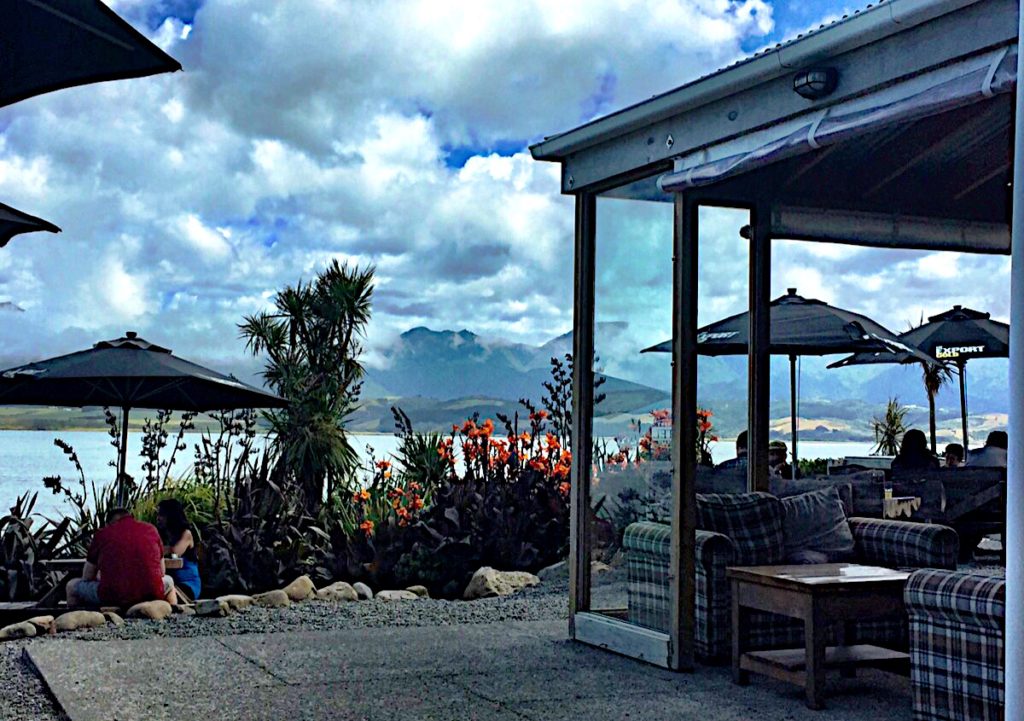 Cape Palliser Road runs briefly inland before it becomes a jaw dropping, coast hugging scenic delight, right as you approach the turnoff for the Putangirua Pinnacles.  We'd hoped to view these strange land formations on our way out, but Mother Nature had other ideas.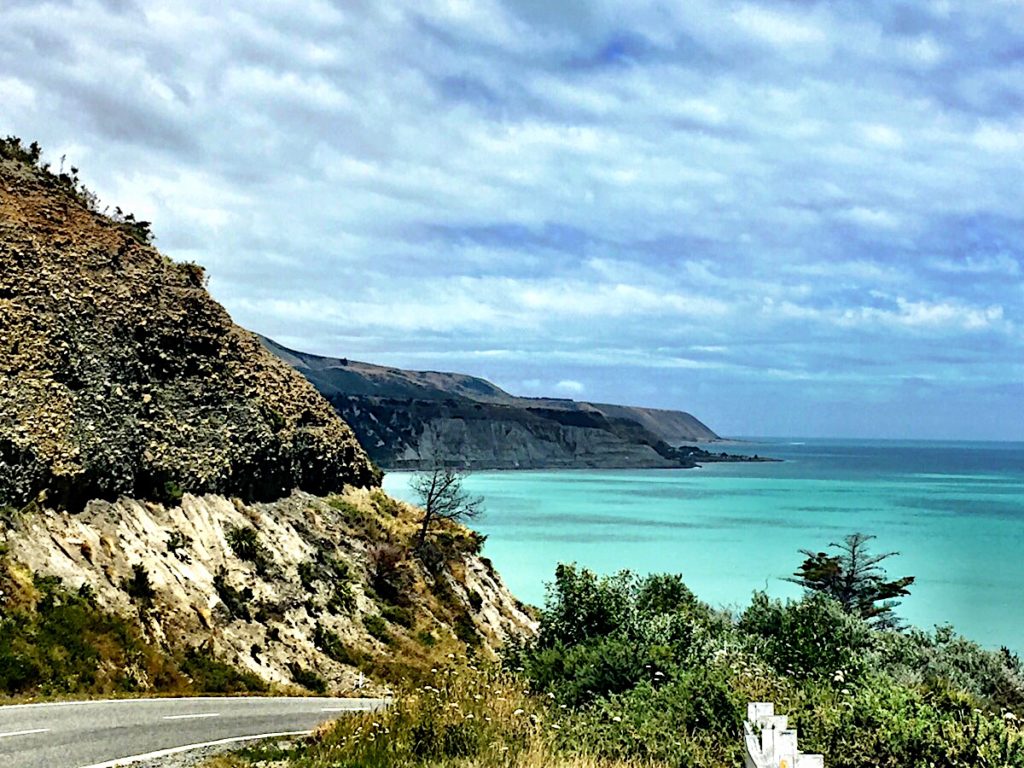 Continuing on, just before you reach the "Cape" you'll find the quirky town of Ngawi, which boasts more bulldozers per head of population than anywhere else in the world.  The bulldozers are used to haul the many fishing boats in and out of the turbulent waters of Cook's Strait.  It's a somewhat rugged, desolate looking town, made even more so the day of our visit due to the overcast skies.  It's a must stop, however, to view the tractors and imagine the crayfish boats being thrust into the water then pulled to safety at night.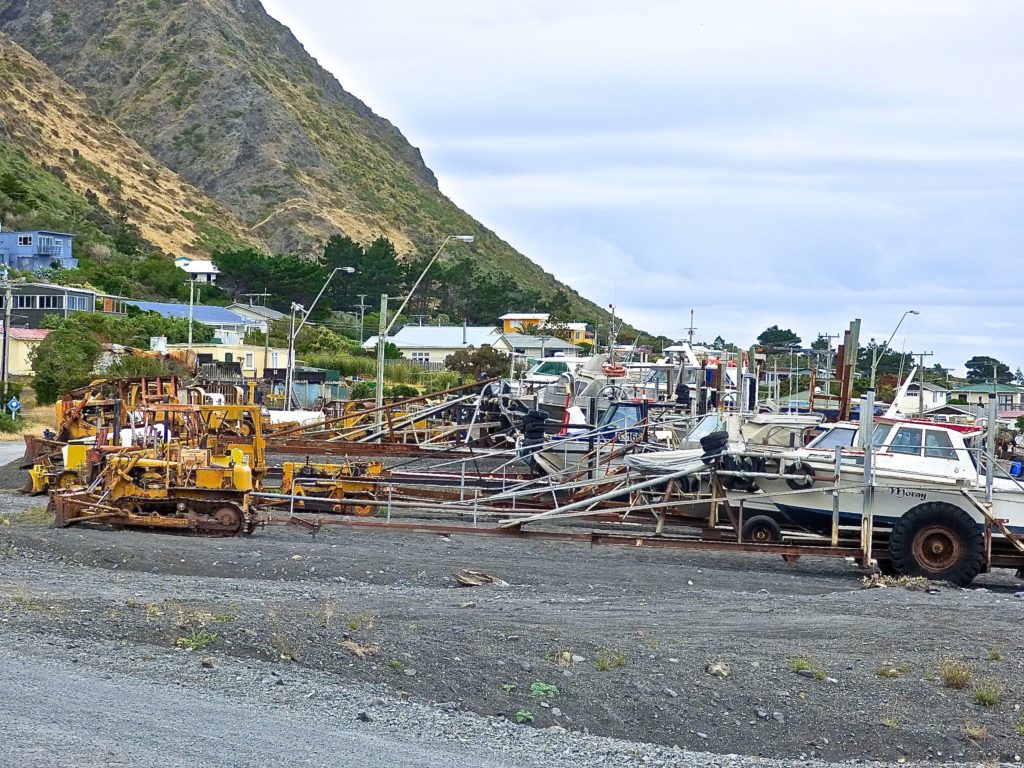 About 3 miles (5K) outside of Ngawi, I suddenly exclaimed "Stop!  Stop! There's a seal!"  Now, it's not like I've never seen a seal before in my life, but finding them lounging among the boulders along the coastline is well, just so exciting!  Be careful where you walk as they blend in surprising well with the landscape given their large size and you could easily walk up to one if not vigilant.  While our pictures makes it appear we were very close, I must say we have good  "zooms" on our cameras.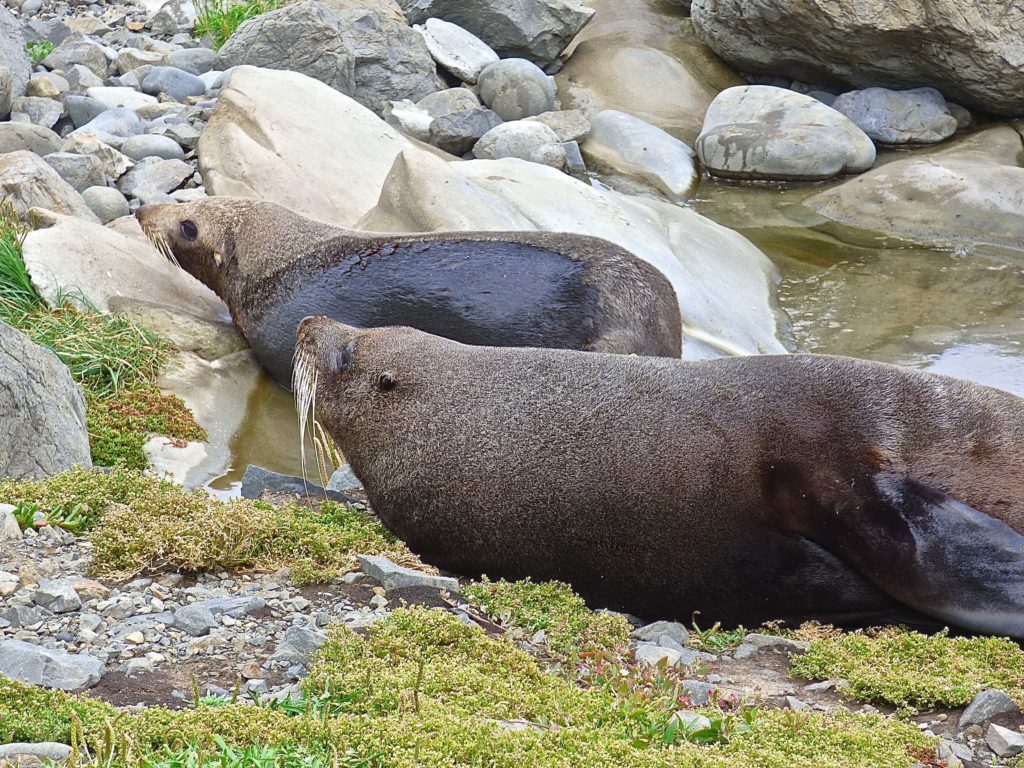 You can stop just about anywhere along the last few miles of the Lighthouse road, and be guaranteed to see the seals.  They were pretty ambivalent about our presence, continuing with the daytime naps as we shot photo after photo.  So much fun!
The last portion of the road really hugs the cliffs, with the ocean right at the other edge of the two lane road, which, coupled with two or three areas where one lane of the road had been washed out, made for an exciting drive.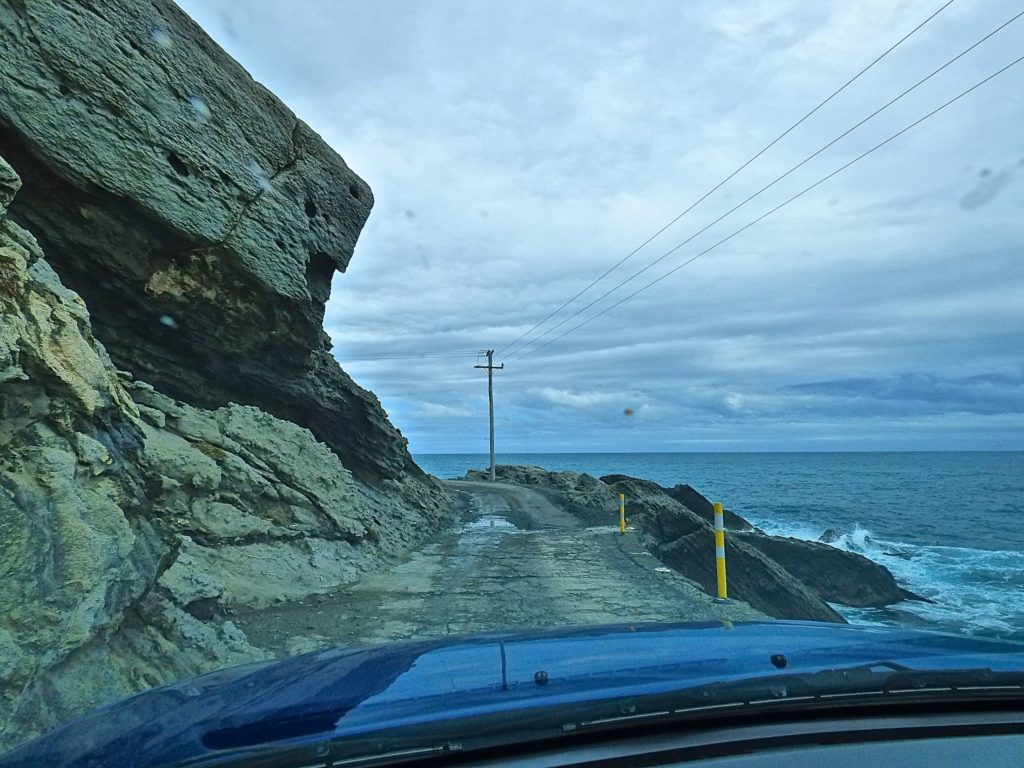 Views of the lighthouse had been visible along the way, but we were still amazed to see it, especially upon discovering a 250 or so step staircase leading up to it.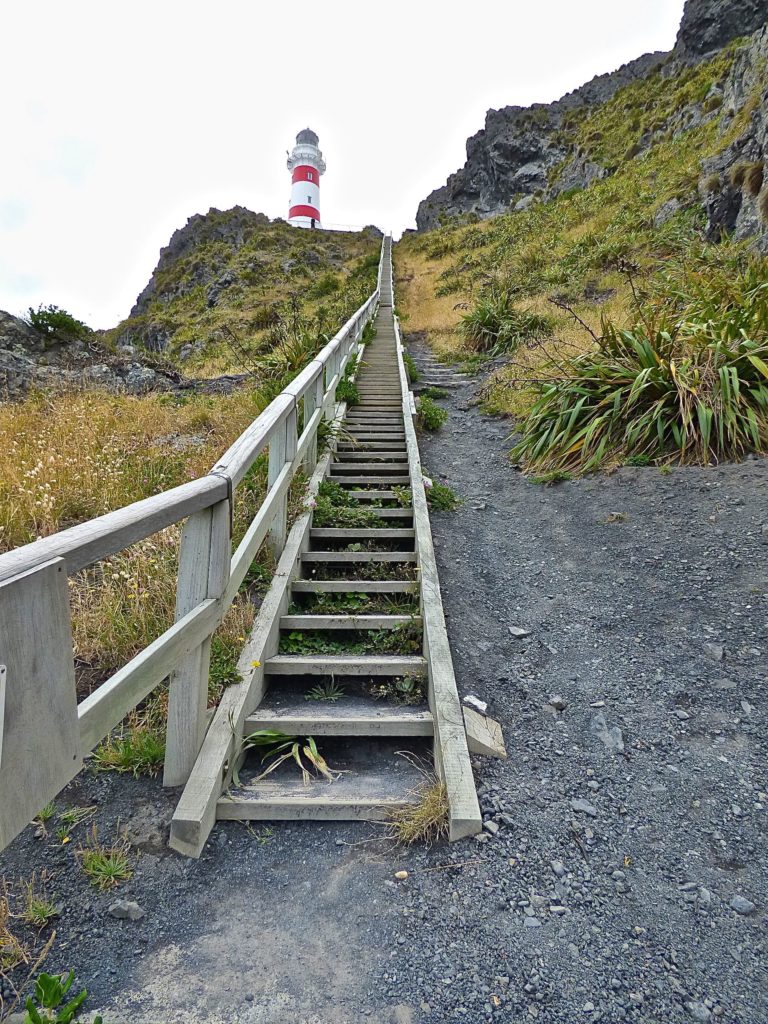 If you've read any of our other posts, whenever there is something to climb or a physical obstacle to overcome, then you know we have to go to the top.   We started up at a good pace, determined to go to the top without stopping.  Honestly, I don't know why we do these things but, gasping for air, we made it – barely, and at a much slower pace than we had started.  Regardless of how you do it, a walk up to the lighthouse is rewarded with panoramic coastal views!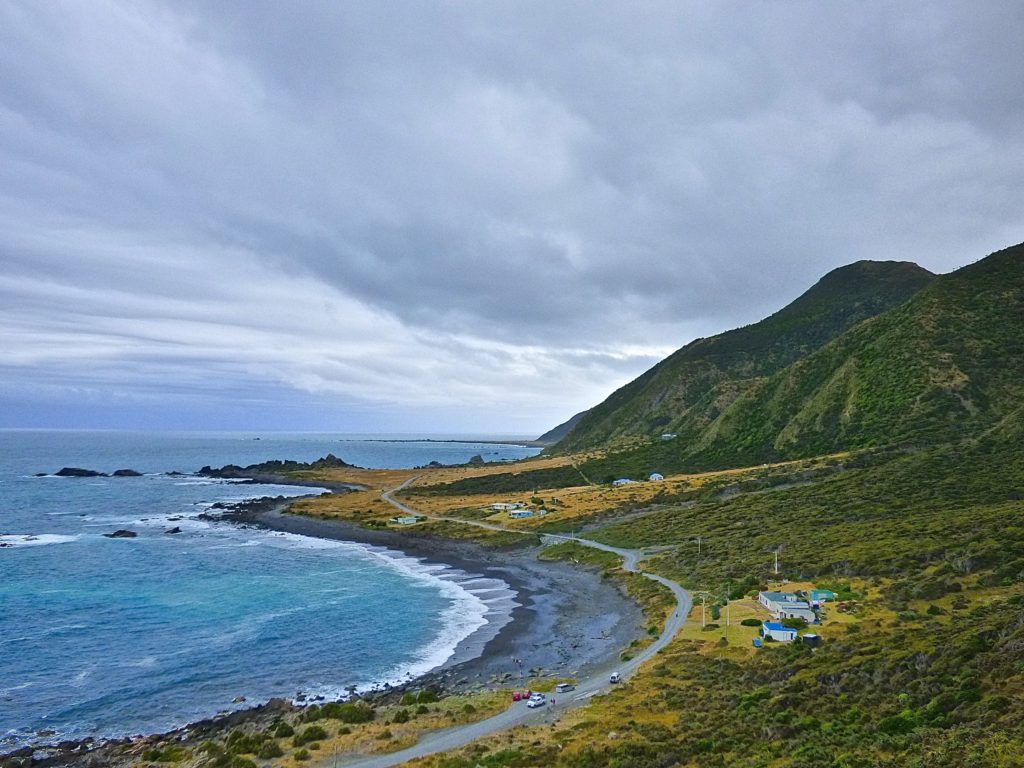 We finally came down and drove back to a parking lot a short distance away to look for more seals and were not disappointed.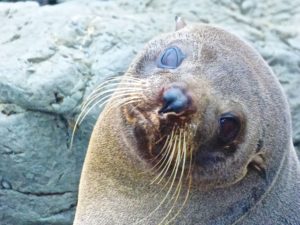 The weather had been quite changeable in the time we'd been at the "Cape," going from partially cloudy to overcast to downright threatening.  As I stood on the rocks photographing the seals, Jack looked over his shoulder at the approaching rain and yelled that we should head for the car.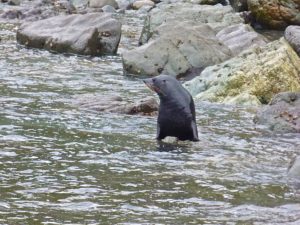 We started walking, then broke into a run as the light sprinkles quickly became huge raindrops that morphed into hail within a matter of seconds.  We raced for the car, parked no more than 80 yards away (70 M) and were soaked by the time we jumped in.
Kaui weather, where we live, is quite changeable but Cape Palliser beat it hands down!  We've never seen weather come in and change THAT fast!  The rain didn't let up, so we reluctantly left and had to forego a tramp into the Putangirua Pinnacles.  Maybe next time.
For more travel fun with "Seniors" please check us on Twitter, Facebook and Instagram. (Where we post the photo of the day.)