Really, there is no such things as a "quick tour" of New Zealand, as the narrow, winding roads that comprise much of the County's thoroughfares make for slow going.  Nevertheless, we had allocated 10 days to exploration prior to our house/pet sit outside of Wellington, with our initial destination being Auckland.
Since we were arriving late in the evening, we'd booked a room at the Airport Holiday Inn because it had a hotel shuttle, but the shuttle was via the "Yellow Bus" which is $6 NZ cash or $6.50 NZ on a credit card.  This Bus also provides shuttle services for several other area hotels so don't automatically assume your hotel shuttle is free.  The following day, we were able to get into Auckland for $35 NZ by calling Discount Taxi (which has a pre-arranged price for Holiday Inn guests.)  To go directly to Auckland CBD from the Airport necessitates either an expensive taxi/shared shuttle ride, or you can take the SkyBus for $18 NZ one way or $17 NZ if booked online. With taxi fares showing as $60NZ+ from the airport, the SkyBus is clearly the most economical route.
Auckland is a very walkable City, with an amazing assortment of restaurants, shops, nightclubs, bars, various parks, and Ferries to take you to the nearby Islands for hiking.  They even had a Starbucks which always makes us feel at home!  We spent the first day just exploring the City on foot.  Eating out in NZ is rather expensive. We found that by choosing restaurants that were also a bakery, we were able to enjoy tasty and filling meals by ordering from the ready made food.  Meat pies, frittatas, focaccia, quiches and more are normally available ranging from $5 to $8 NZ whereas a hamburger, sandwich or eggs are often around the $18 – $20 NZ.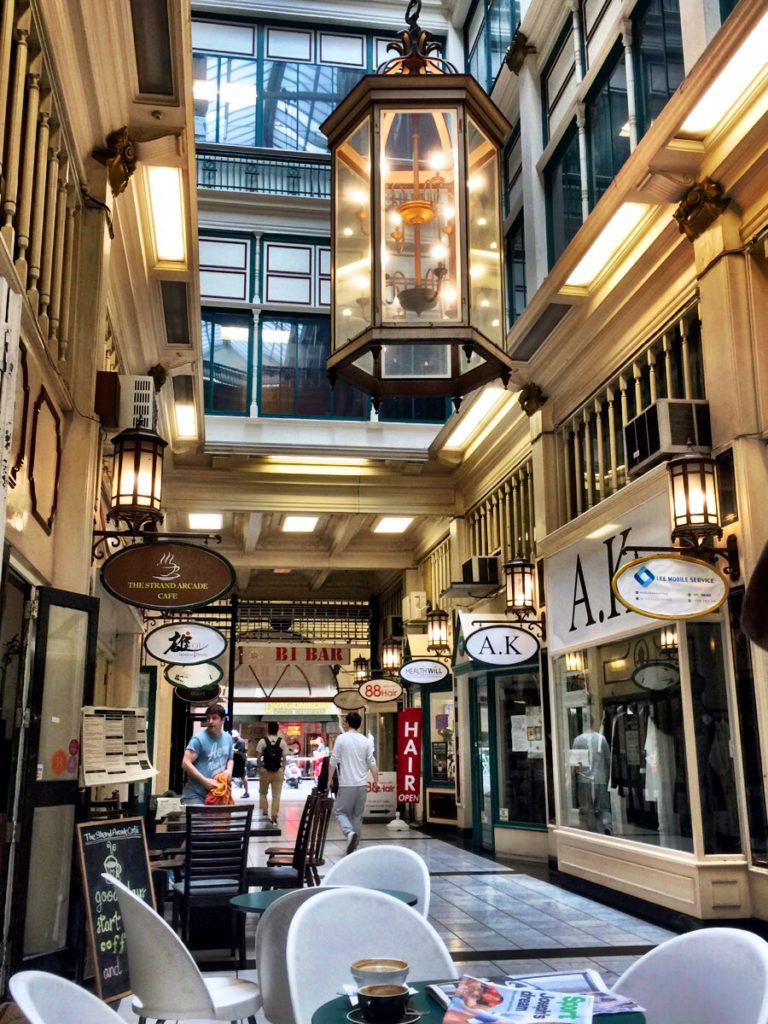 The following day we boarded the Rangitoto Ferry to nearby Rangitoto Island where we hiked to the 258 meter (850 foot) Island summit for commanding views of Auckland and Hauraki Gulf.  Make sure you  also allocate time to go through the lava caves with your torch!  In order to fully enjoy your time on Rangitoto, it is best to go early as the last Ferry back on weekends is 5 PM or 4:30 PM on weekdays.  Remember to bring snacks and plenty of water as the only facilities on the Island are toilets – no restaurants or stores!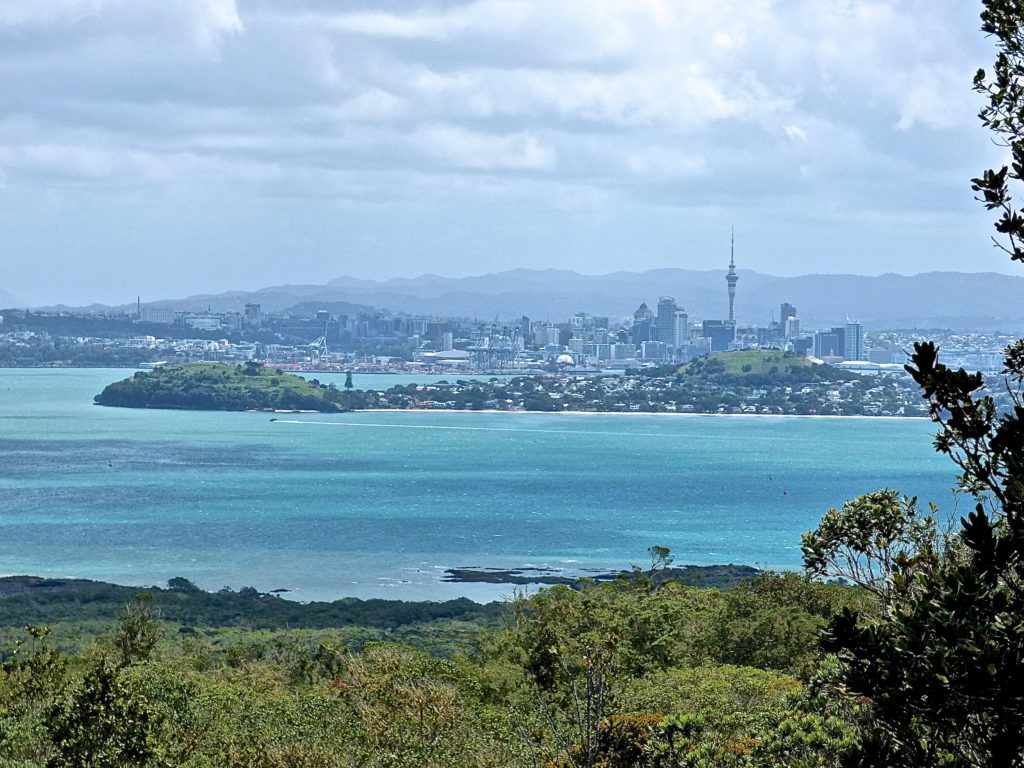 The next day, we had an unexpected delay picking up our rental car which made for a late departure for Whangarei via Dargaville and the Waipoua Forest.  The delay left us with little time in Dargaville, coupled with the fact that we were visiting over the Christmas holidays during which time many shops are closed-so we left there somewhat under-impressed. Regrettably, our plans to visit the Waipoua Forest and see two of the largest living kauri trees (Te Matua Ngahere & Tāne Mahuta) were cut short due to our late start.   We enjoyed a short drive into the forest but then turned East to head to our  Cottage in Whangarei.  If you find yourself following a similar route, we would certainly recommend making time to see Te Matua Ngahere & Tane Mahuta.
Whangarei (the "wh" is pronounced like "ph") is a lively town with a relaxing mix of big city activities at the marina in the center of town coupled with a nice rural vibe, such as was found at our cozy Cottage.  After checking in, we headed for the marina which, along with a nice walking path, has several restaurants from which to choose.  An outside dinner at The Quay Restaurant made for a lovely evening overlooking the marina.
The next morning we started up highway 1, then turned right onto Old Russell road at Whakapara, for a scenic drive to Russell in the Bay of Islands.  This drive is best done with a leisurely state of mind, as the road offers beautiful "many shades of green" landscapes along a winding road, before reaching the coast where breathtaking views from on high will make you wish there were more "turnouts" for picture taking.  After a descent, we arrived in the quaint town of Russell where we enjoyed a seaside lunch at the Waterfront Cafe followed by a casual tour of the town.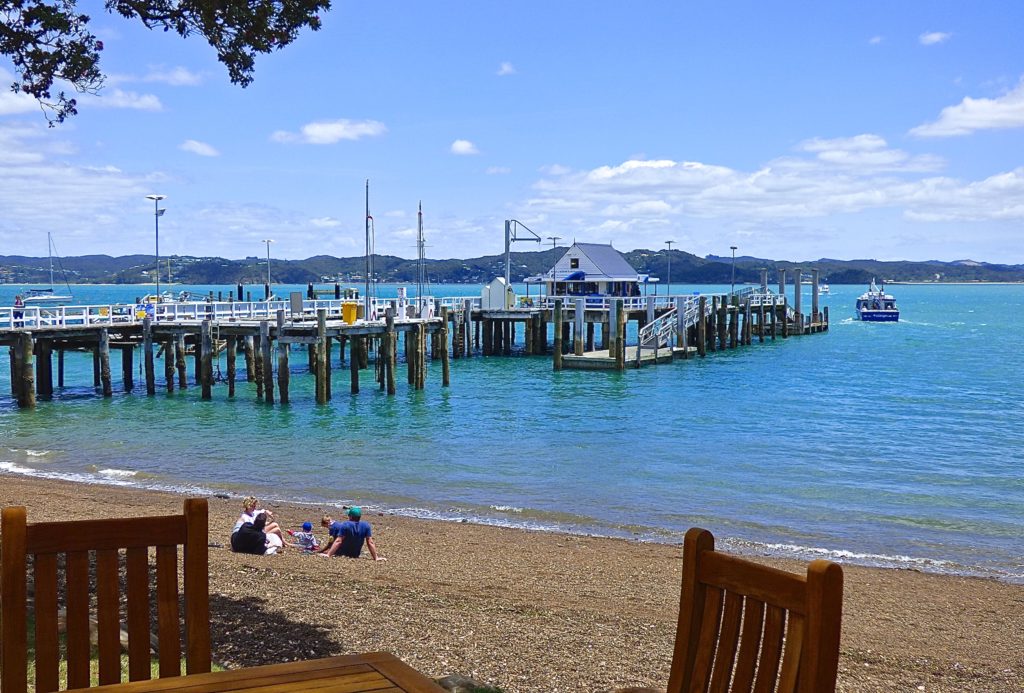 To shorten the trip home, we drove into Okiato and took the auto ferry to Opua, then followed SH11 to SH1 back to Whangarei. While in Whangarei, absolutely do not miss Whangarei Falls which is close in, easily accessible, well maintained and free!  You can view the falls from the top or take a short hike to the bottom for more awesome views.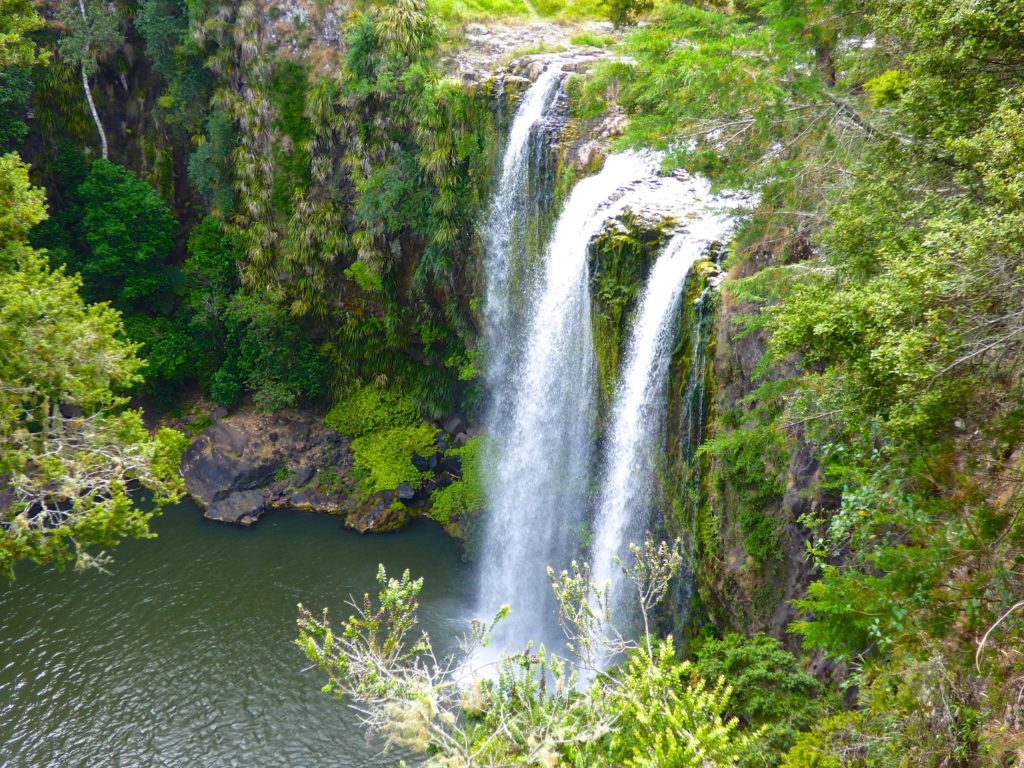 Our next destination was on the Eastern Coast to the  Coramander Peninsula town of Hahei.  This enchanting beachside town is home to the world famous Cathedral Cove, a spectacular ocean bluff walk to a "wonder of nature" natural cove.  While in Hahei we stayed at Hahei Getaway 2 which is literally 600 meters (less than 2000 feet) to the beach, restaurants and shops at the end of the street.   The start of the Cathedral Cove trail is a short walk down the beach from here.  Other area attractions are the Hot Water Beach where, during low tide, you can dig a hole in the sand to create your own relaxing spa, filled by the bubbling hot springs that are accessible during that time.  Unfortunately, our 10 day trip only allowed one day here so after experiencing Cathedral Cove we were on our way the following day.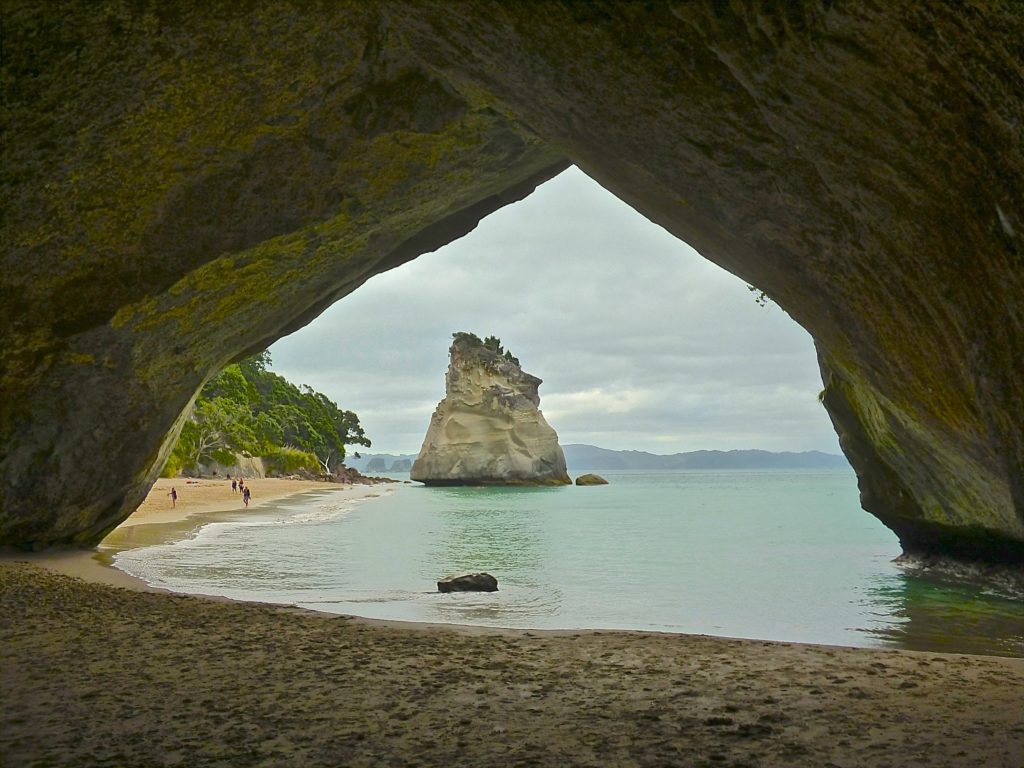 Known by everyone only as "the  Mount," Mount Maunganui is a popular beach town about 15 minutes from Tauranga, and a short 2 hour drive South from Hahei.    As you might expect, Maunganui has a "Mount" that is a must climb for people like us who see the top of something and want to go there.  The Mount is also an exercise platform for the locals, something we realized as they breezed past us jogging up the some 500 plus steps to the top.  You can take the shorter, steeper and more difficult route up the front or the path that is somewhat longer but less arduous along the backside.  In either event, effort in needed but the views are brilliant!
The beach town is a short distance from the Mount.  We walked over after our tramp to the top and chose to have dinner at the Fish Face sidewalk cafe after which we made the short 3 minute drive back home to our lodging at Oceanfront Beach Road Hideaway.   This lodging is a few minutes walk to a nearly deserted beach where we enjoyed a wonderful early morning stroll.
Our next adventure led us to the volcanic city of Rotorua, which is filled with  amazing geothermal sights everywhere.  Where most cities have parks filled with flowers surrounded by a perimeter fence, Rotorua has mud pits and steam vents and bubbling water / mud / you name it – in their public park across the street from our motel.  It is quite amazing.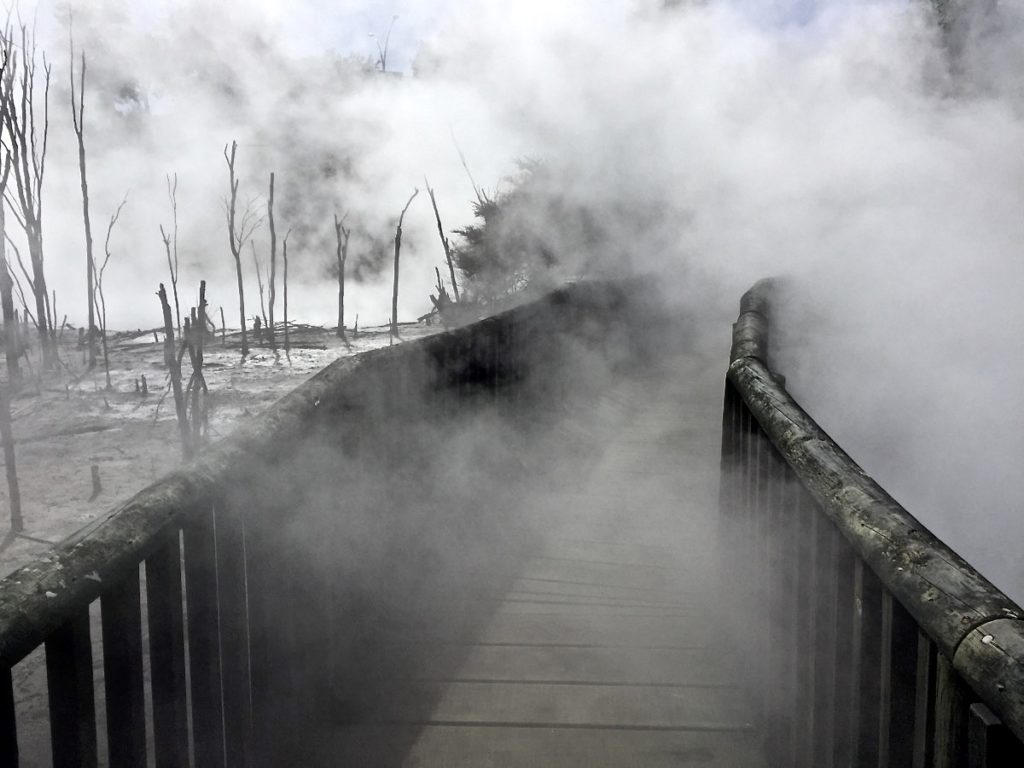 After checking in at the BellaVista Motel, we went to the Te Puia which bills itself as "The Centre for New Zealand's Maori Culture and Geothermal Wonders" and that it is.  We discovered many similarities between the Maori and Hawaiian Cultures and their interaction with Captain Cook and other outsiders.  The Centre is well laid out with the cultural aspects intertwined with the bubbling water, steam vents and a geyser which made for a very informative and entertaining time.
Later, we wandered down to "Eat Street" across from Lake Rotorua and had dinner at Ambrosia.  As the "Street" name implies, you have your choice of restaurants, not only on Eat Street but also all around the CBD.  Later, we took a closer look at the lake before heading back.  It was a busy and fun day.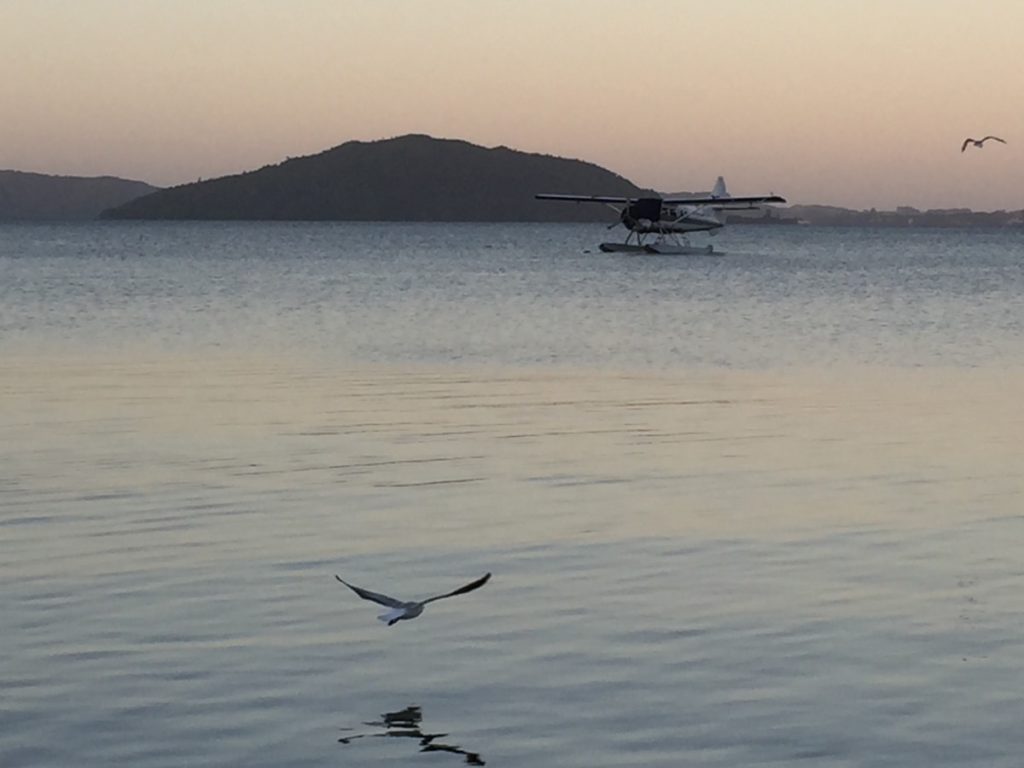 The highlight of our next stop, which was Hamilton, were the Hamilton Gardens, winner of the International Garden of the Year 2014.   In addition to being absolutely stunning with all the various "themed" gardens, it is also free.  We took our time strolling about, taking it all in. I took millions of pictures, (or so it seemed) and was hard pressed to publish only one for this article!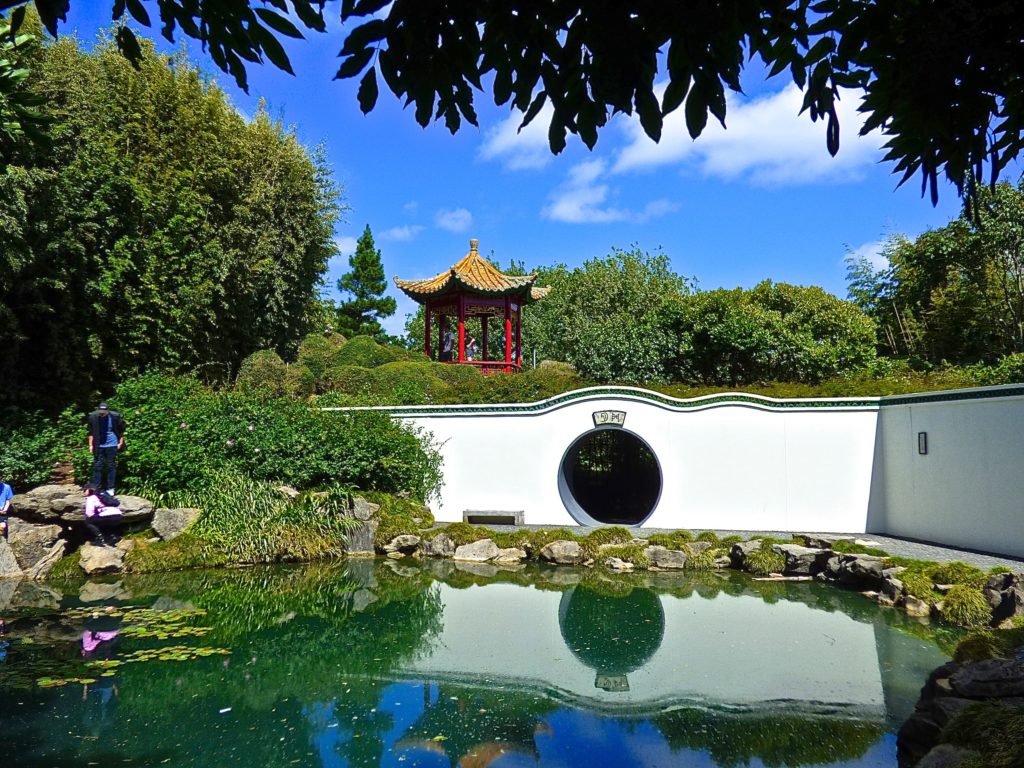 There is a nice River Walk along the Waikato River in the CBD which we enjoyed before dinner and heading to our lodging at Fountain City Motor Inn for the night.
Hamilton was a quick stop, and we were off early the next day to Lake Taupo, where the Lake truly is the centerpiece of the town.  The Lake Retro Motel, our home in Taupo, was not on the lake but very close to it, as is most all of the town.  Like Rotorua, Taupo is also a Geothermal wonder.  If you missed the steam pits and bubbling mud elsewhere, you can find it all here.  Since we'd experienced that in Rotorua, we opted to visit Huka Falls on the Waikato River.
Huka Falls is a series of smaller falls created by the narrowing of the Waikato from 100 meters across (328 feet) to approximately 15-20 meters (32 feet) where it is forced through this small gorge and over a 20 meter drop.  While not mighty in height, the ferocity of the water as it rushes through the gorge and over the ledge creates quite a photo op.  "Huka" is a Maori word meaning foam and it is readily apparent how the name was given.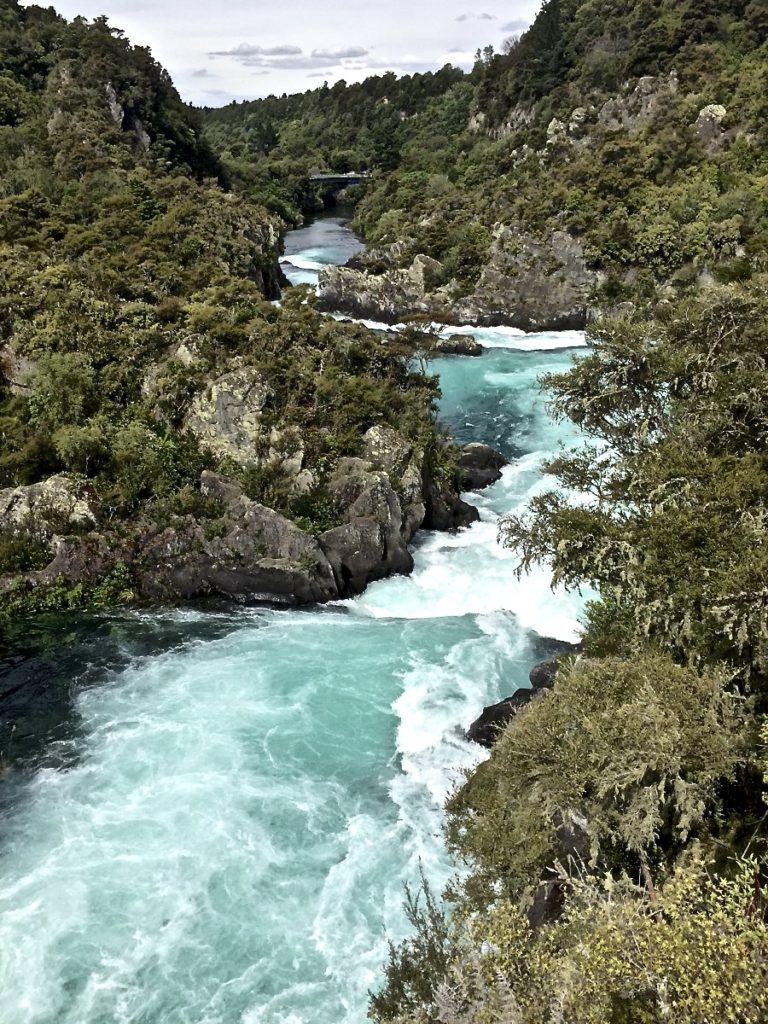 Another interesting viewpoint is found at the Aratiatia Rapids which are formed when the dam gates on the Waikato River are opened, releasing the water.  This is done several times a day to harness the energy of the surging river for sustainable hydroelectric power.  These rapids are the ones used in Peter Jackson's movie, The Hobbit: The Desolation of Smaug.  There are several great viewing platforms downriver so get there early for a good spot.  Check here for the water release times which change with the seasons.
If you like handblown glass, don't miss the Lava Glass store on State Highway 5. They have beautiful and colorful handblown glass work for sale as well as a glass flower garden, featuring some of the largest blown glass pieces in all of New Zealand, complete withe a glass rainbow.  Lake Taupo, the Waikato River and the surrounding area will certainly keep you busy no matter what your interest.  We ended the day with dinner along the lake where you have an abundance of restaurants from which to choose.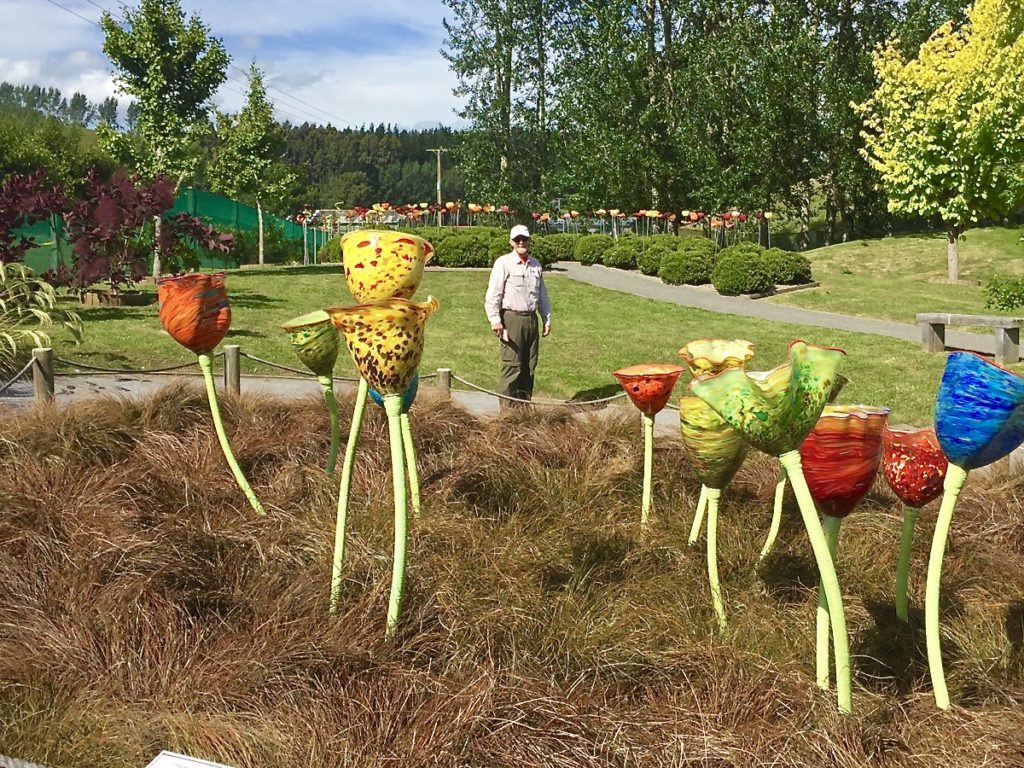 Our final destination was Wellington; our last stop prior to our scheduled housesit in Featherston.  We decided to save the exploration of Wellington for another day, (while house sitting) and headed for our beautiful bluff side Pacific View B&B with ocean views.  It was heavenly, as was our breakfast the next morning.  Late that afternoon, we stretched our legs by tramping down a trail to the ocean, located at the end of the street.  It was beautiful and a perfect end to our 10 day tour.
10 days on the North Island was far too short for all that Mother Nature has to offer, but we enjoyed every minute of it and were certainly enticed enough to put it back on our list for future visits.  For now, we plan to post additional pictures of our North Island journey on our Seniors With Latitude FB page, so please check there for more of our photo ops.